Professional camera support with suction cup
PROFESSIONALE • ROBUSTO • COMPONIBILE • VERSATILE
Available with optional universal screw attachment or with attachment for GoPro cameras, Garmin or Tom Tom navigators.
OCTOPUS
is a stand that allows you to adjust the angle of the camera in a versatile manner, simplifying the acquisition of images from
various perspectives. It 'very resistant because, unlike those on the market up to now, is completely built in the alloy.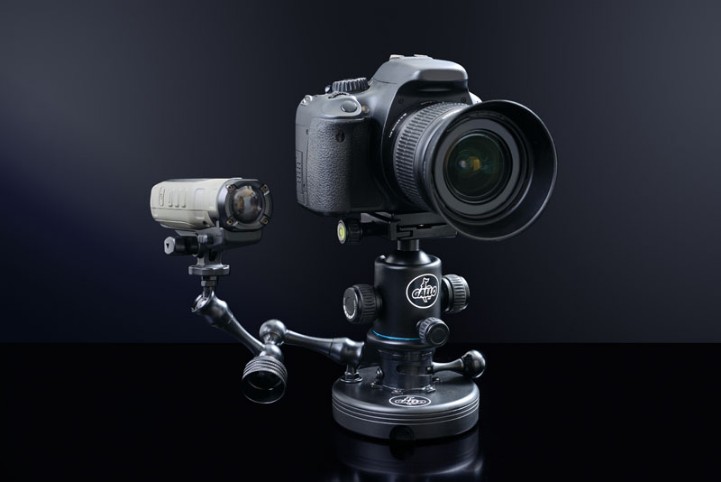 The suction cup a powerful seal so you can make movies without vibration. The holder with suction cup is ideal for automotive locations and can be fixed both inside and outside the passenger compartment.
Thanks to its universal attachment, included, is compatible with any type of video or camera. The material used for the suction cup and the quick fastening by means of a single lever, allows to fasten it on virtually any type of smooth surface. Even the outer arms are extremely rugged and versatile and lock in place thanks to a single knob.
OCTOPUS is available in 4 standard versions:
OCTOPUS TB:

fluid head Central and slide + external articulated arm with universal screw

OCTOPUS B:

external articulated arm with universal screw

OCTOPUS 2B:

Two outer arms with universal screw.

OCTOPUS T

: fluid head Central and slide.
The version with central fluid head has a sliding plate with connection for any type of video or camera for fast and easy positioning of the camera or camcorder.

It's possible to request a 3/8 screw connections 15mm or 24mm length, adapters with connection for GoPro or Tom Tom or Garmin.
The Octopus is made in Italy.
The address used for the shipment of the goods to be purchased will be that defined in the buyer's payment.
Purchase of goods purchased
The tax invoice of the order will be sent to the parcel; it is necessary to fill in the required fields for the correct emission.
For the correct billing it must provide the following information:
- First and last name / company name